Make Debbie Wasserman Schultz's Hair Curl-Fabulous

Controversial curls
Who called US Rep. Debbie Wasserman Schultz's (D-FL) hair "the angry perm" and "ramen noodle hair"? Not snotty middle-schoolers but political pundits on national television. Offensive? As hell.

But there's a germ of truth behind the comments. Real talk: not all curl patterns are flattering right out of the head. But with a few edits, they can become curl-fabulous. Debbie Wasserman Schultz's hair is a prime example.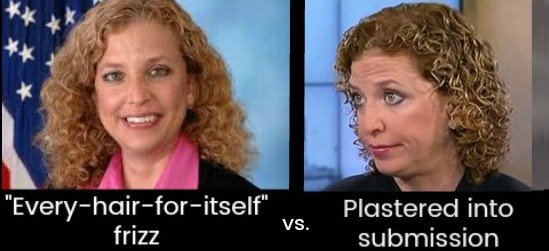 Plastered disaster
DWS routinely wears a wash-and-go. Her 2013 tweet says she uses "Curls Rock Curl Creme or Miss Jessie's Curly Pudding, Frizz Ease mousse, Argan oil, in that order."
It sounds like a good strategy in Florida's diabolical humidity, which turns any curl into every-hair-for-itself frizz. Unfortunately, the finished "do" looks plastered into submission and doesn't flatter her face.
Curly hair deserves better
Selecting or settling?
Regardless of our opinion, the real question is whether she actually likes this look or is just settling for convenience.
One thing is clear: when the occasion really counts, she wears her hair differently. And it looks fabulous.
When it really matters
In this 2016 campaign rally photo, her tight curl has been softened, most likely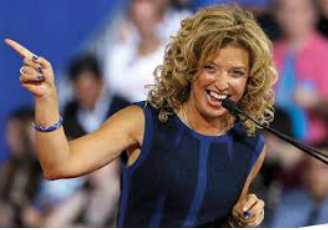 with a hint of blow drying to stretch the curl and lift the roots. Instead of pasted, frizzy, and ramen-y, it's fuller, looser, and highly flattering to her face.
Result: she looks like she feels gorgeous. Anyone who says that doesn't matter is lying.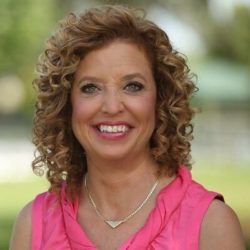 Her Twitter photo is also an improvement over her daily wash-and-go. Looks like a touch of curling iron was used to organize the curl.
Look this way every day
The main take-away is that Debbie Wasserman-Schultz could dramatically upgrade her daily hair game with little to no increase in time spent. How? With a keratin treatment.

Keratin treatments are GREAT for curly hair worn curly
Fast and loose
Debbie Wasserman Schultz's hair is a textbook example of the benefits of keratin treatments for curly hair worn curly.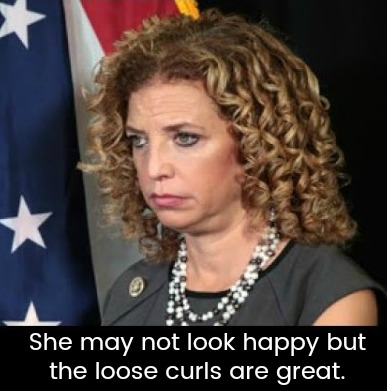 With a keratin treatment, the styles above could be quickly, easily created by her at home. Even more important, they wouldn't frizz in her humid habitat but would last for several days to a week with only a few minutes of minor daily touch-up.
No-cry air dry
Even her default air-dry would be much improved by keratin: looser, longer, and frizz-free. It could still be her daily go-to and she could leave out all the current product.

The straight story
Could she wear it straight? Yes. Even this curl pattern would straighten easily, fast, and frizz-free with a keratin treatment. Of course, we don't know exactly how it would look on her because there aren't any photos.
Which brings us to…
Vogue's Hall of Shame
Not really relevant but we can't resist resurrecting this epic fail, an oldie but goodie: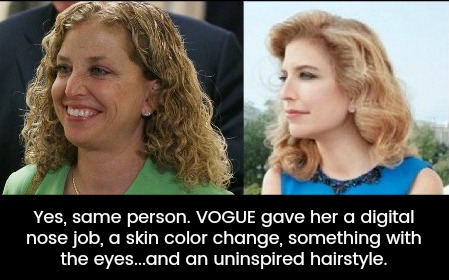 Vogue goes rogue
In October 2012, Wasserman Schultz appeared in a Vogue magazine photo spread with smoother hair and (no extra charge) an insulting digital makeover. Vogue gave her a nose job, reshaped her eyes, and lightened her skin plus changed its undertones. We thought the hairstyle was artless, too.

Try one on us, DWS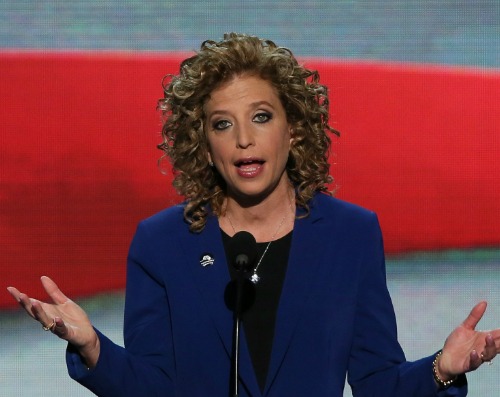 Nothing to lose but frizz
Debbie Wasserman Schultz could dramatically improve the quality, range, and styling ease of her hairstyle with a keratin treatment. The loosened curl would both air dry beautifully and respond rapidly to heat styling. She could go product-free without frizz and pouf.
For her tight curl and humid climate, we'd probably go with Uncurl Plus over Uncurly Classic, depending on the desired effect.
Confidential to DWS:
Thanks for letting us gossip about your hair. We're glad to send you a bottle of Uncurly, Send your address on our Contact Form.
XO, The Uncurly Girls