Turning Debbie Wasserman Schultz's hair "curl-fabulous"

How's this for offensive? U.S. Rep. Debbie Wasserman Schultz's (D-FL) hair got called "the angry perm" and "ramen noodle hair." And not by snotty teenagers but political pundits on national television. Send them back to middle school where they belong!

Nonetheless, we admit that there's a germ of truth behind the comments. Real talk: Not all curl patterns flatter their owners right out of the head, so to speak. However, with a few edits they can become curl-fabulous. Debbie Wasserman Schultz's hair is a prime example.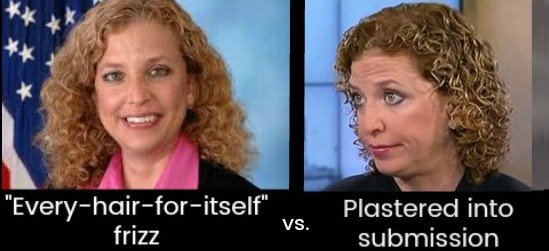 DWS routinely wears her hair in a wash-and-go. (She uses "Curls Rock Curl Creme or Miss Jessie's Curly Pudding, Frizz Ease mousse, Argan oil, in that order," according to her 2013 tweet.) It's an understandable strategy in Florida's diabolical humidity, which turns most curl into every-hair-for-itself frizz. But on the downside, the finished 'do looks plastered into submission and doesn't flatter her face.
Curly hair deserves better
Regardless of our opinion, the real question is whether she truly likes the look or is just settling for convenience. One thing is clear: for important occasions or branding images (her Twitter photo), she styles her hair differently. And it looks fabulous.
In this 2016 campaign rally photo, her tight curl has been softened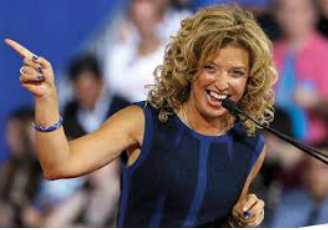 — most likely with a hit of blow drying to stretch the bangs and sides and to add some root lift. It's not pasted down, frizzy, crunchy, or noodle-y. Instead, it's bigger, looser, and highly flattering to her facial features. She looks like she feels gorgeous, and anyone who says that doesn't matter is lying.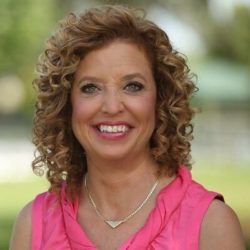 Her Twitter photo (left) is also a loosened curl that's been worked a little — maybe a touch of blow drying to loosen it and a bit of curling iron to organize the curl. It, too, is a better look for her. But in our experience, even her default wash-and-go could be easily transformed into something much more flattering. How? With a keratin treatment.

Keratin treatments are great for curly hair worn curly
Debbie Wasserman Schultz's hair is a textbook example of the benefits of Brazilian keratin for curly hair worn curly.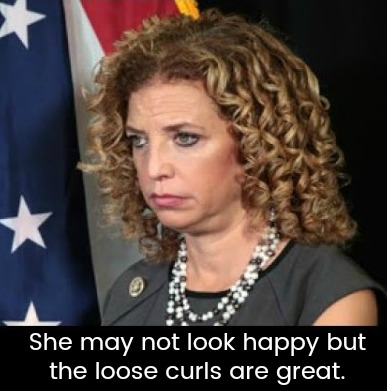 With a keratin treatment, the styles above could be rendered quickly and easily by DWS at home. And most important, they'd retain their lines without frizzing in her humid habitat. They'd easily last from several days to a week, needing only a few minutes of minor daily touch-up, if that. Even her default air-dry would improve a lot with keratin: looser, longer, and frizz-free without rigidity or noodleness.

As for wearing it straight…seriously, VOGUE?

What if she wanted to wear it straight? A keratin treatment would make going straight fast and frizz-free even for this hair, although we have no photos to show whether or not it would look good.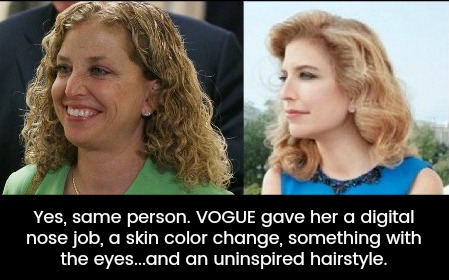 In a 2012 Vogue spread, Wasserman Schultz was shown with straighter hair but thanks to an insulting photo edit, it's impossible to say how she'd really look. Vogue gave her a digital nose job, reshaped her eyes, lightened her skin and even changed its undertones. And the hairstyle itself was "meh."

At least with a keratin treatment, she could easily go straight in a third of the normal styling time, and the style would stay put thanks to its powerful frizz resistance.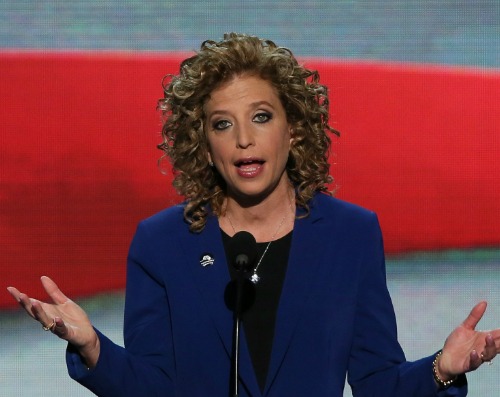 For a tight curl like hers, we'd suggest our Uncurly Plus formula, particularly given the Florida humidity.
This one's on us!
In sum, Debbie Wasserman Schultz could dramatically improve the appearance and style range of her hair, as well as eliminate frizz and pouf, and reduce styling effort with a Brazilian keratin treatment. If you know her, tell her we'd be glad send over a bottle if she's interested!